Save up to 35% off select
European Sailings with

Free unlimited shore excursions

Reduced 10% deposit

New single supplement specials

& more

Sale ends 28Feb19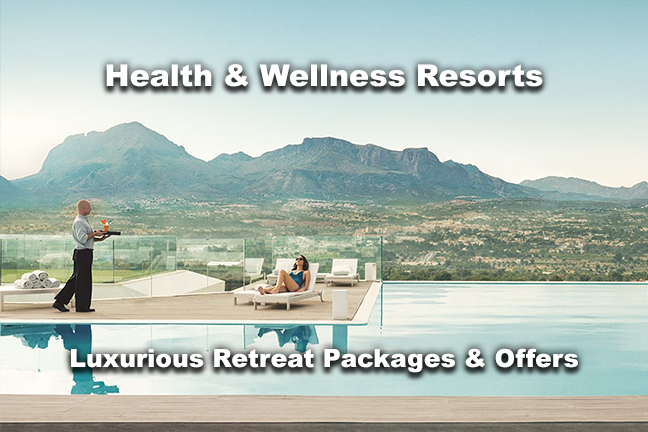 Carnoustie Ayurveda & Wellness Resort, Kerala, India
Gwinganna Lifestyle Retreat, Tallebudgera Valley, Queensland
Your Wellness Haven in Kerala - The Home of Ayurveda

from

$7,588
Ayurveda & Wellness Resort is set on the shores of the mesmerising Arabian sea, just 8 kms away from the world famous backwaters of Alappuzha.
Revitalise your life
Health & Wellness Packages

from

$1,030
Experience luxury in a picturesque setting as you are given the rare opportunity to explore nature & rediscover your wellbeing.
Chiva-Som International Health Resort, Hua Hin
SHA Wellness Clinic and Resort, Alicante
Discover your Perfect Retreat

from

$6,880
Revitalise your mind, body & spirit at the world's most renowned & luxurious wellness resort, Chiva-Som, located in Thailand.
Advance Purchase Offer

from

$13,657
A paradise designed to benefit your health and well-being. A private universe of luxury where body and soul meet in harmony.
The Siam, Bangkok
COMO Uma Ubud, Bali
4 Day, 3 Night Wellness Programme

from

$4,593
Set on the Chao Phraya in the historical district of Bangkok, The Siam offers 5-star accommodation, superb dining and world class spa and wellness services.
Two Night Romantic Escape Package

from

$1,664
COMO Uma Ubud immerses you in the culture of Bali while also providing luxury amenities, from food to spa to exquisite accommodation.


Firstclass.com.au - Licence 2TA5046, IATA No: 02362242, Email: travel@firstclass.com.au
Home office: King Street Wharf, Suite 303/25 Lime St, Sydney 2000 NSW. Tel: 61 2 9299 0088
Parramatta office: Shop 2, 20 Charles Street, Parramatta NSW 2150. Tel: 61 02 9299 4300
Subscribe
| Unsubscribe